Running a small business is no easy task. It takes a lot of integral planning to get the business up to scratch and you'll constantly have your hands full before you open and after. Regardless of what sort of business you're opening up, it is guaranteed that you will be handling the flow of money coming in and out of your business.
Whilst you will probably be looking for the cheapest way to do things when opening up your business – and may think that you're able to handle the financial aspect of your business on your own – we highly recommend hiring an Eaglemont accountant. This is one aspect of your business that you do not want to make a mistake in. This is why and how an accountant can help your small business.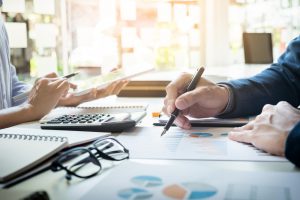 What they can do for you.
Not to be confused with a bookkeeper, an accountant can make sure that your business is heading in the most profitable direction. They're able to inform you on how best to run your business from a competitive standpoint. This sort of thing can cover anything from the prices of what you're selling to aesthetic of your business (the latter would apply more-so to a café or restaurant than an office).
Accountants will also handle your taxes come tax time and ensure that everything is up-to-scratch and ready for submission. As tax time is such an important part of the year, your Eaglemont accountant will study your records and not only ensure that they're correctly submitted but also make sure you're getting full use of all the allowances and tax benefits that you can claim.
It's a much more stress-free experience when you can have an expert take care of such an integral part of your business. Most importantly of all, accountants will help you to understand the accounting side of your business so that you can learn and become more comfortable around your own numbers.
Helping with the start-up phase.
Accountants can also be quite essential when you start to plan your business, not just after it's already up and running. Through their keen market experience and insight, they can make sure you make the best choice in location, business model and of course, with your expenses. An accountant can analyse your current plan and make suggestions on how best to move forward with it, suggesting key changes where necessary.
Growing your business
When it comes to expanding and growing your business, an Eaglemont accountant can be uniquely helpful and expertly suited to provide the most efficient advice and direction. Things such as investment opportunities and profit maximisation can be achieved with an accountant's keen eye. As they're the one who is constantly scrutinising your financial accounts, they can see which customers should be concentrated on and which ones may not be doing the company any good, for example.
This can also extend to your products and services. If a particular product or service you're selling/offering is underperforming, then they may suggest a restructure. Restructuring your business is something that may never occur to you. But an accountant's outlook is a fresh view that comes from the outside, motivated by financial results and records.
Cash flow forecasts
Another area an Eaglemont accountant can assist you with is cash flow forecasts. Cash flow forecasts can help a newly formed business or an already thriving one. For new business', your accountant will sit down with you and help you estimate what you think the figures will be for your first forecast. If you're the actual values turn out to be different to your estimates, then you can make the adjustments to see the difference with the actual cost of goods/services that were sold.
Cash flow forecasts can also help with optimising your business' future cash flow by looking at your past trends and making the necessary adjustments to work towards a better profit. These forecasts are a great way to see how your business is running overall and if you can afford to expand/grow. This is where an accountant can come in, to help go through the numbers with you.
Do you need an accountant in Eaglemont?
Silverdale Consulting Group is an Eaglemont-based accounting firm that specialises in assisting small businesses. With over 40 years of industry experience, we offer a variety of financial services that can help your small business thrive and grow.
If you would like to know more about what we offer then please give us a call on (03) 9497 5885, or contact us through our website here.